I was recently scheduled to give a talk at the Library Arts Center, in Newport, NH, where my work was part of their "Selections 2020" exhibit.  The talk was canceled because of the pandemic, but the director of the Library Arts Center, Kate Luppold, asked me a question that might have come up at my talk.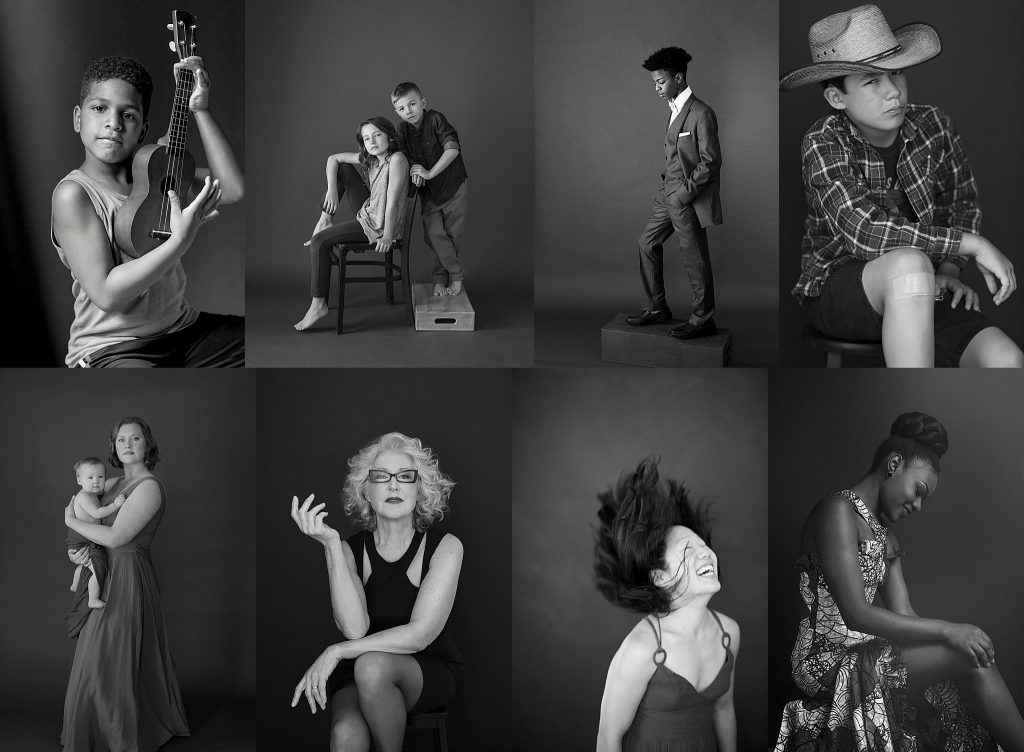 Kate asked, "Your love of people is clearly evident in your work, along with your desire to help your subjects be seen, and see themselves in their highest, most complete, most powerful form. How do you figure out how to portray your subject?"
When a client commissions me to create portraits, we begin a collaborative journey. Some people know how they want to look in their new portraits, but others aren't sure. Either way, the portrait experience begins with a consultation. I love to meet people in person, but we can also use video conferencing, or we can chat on the phone.
During the consultation, I like to get to know people a little – start to discover their tastes in style, their vision (if they have one) for their portraits, and also why they are here. People have many reasons for booking a portrait session – for some, it's to celebrate a milestone, maybe a birthday, or graduation, senior portraits, or Mother's Day. But for many – especially women – it's simply that they have not existed in a portrait of themselves that they love in decades, if ever.
Once we choose a session date, I give my clients a short, fun assignment. I create a secret mood board for them on Pinterest. Pinterest is a wonderful resource for creative people. I like to call this assignment "free pinning." It's similar to free-writing – remember that, from school? In free-writing, the teacher would say, "Write for five minutes without stopping. Even if you have nothing to say, write, 'I have nothing to say,' until you do." Almost without fail, this exercise would result in some thoughts or feelings coming to the surface. Those would be the foundations for a story, or an essay. To get to that, the idea is to stop self-censoring.
With free pinning, I ask my clients to take five or ten minutes here and there and to begin to enter search terms associated with portraiture. It might be, "women's portraits," or "family portraits," or perhaps even the name of a photographer, like "Annie Leibovitz," or a favorite portrait painter, like "John Singer Sargent."
Next, Pinterest will give you a never-ending "list" of visual results. I direct my clients to pin to our mood board ANY photo that they like, for any reason. The trick is not to question why, and as with free writing, don't stop until the time is up.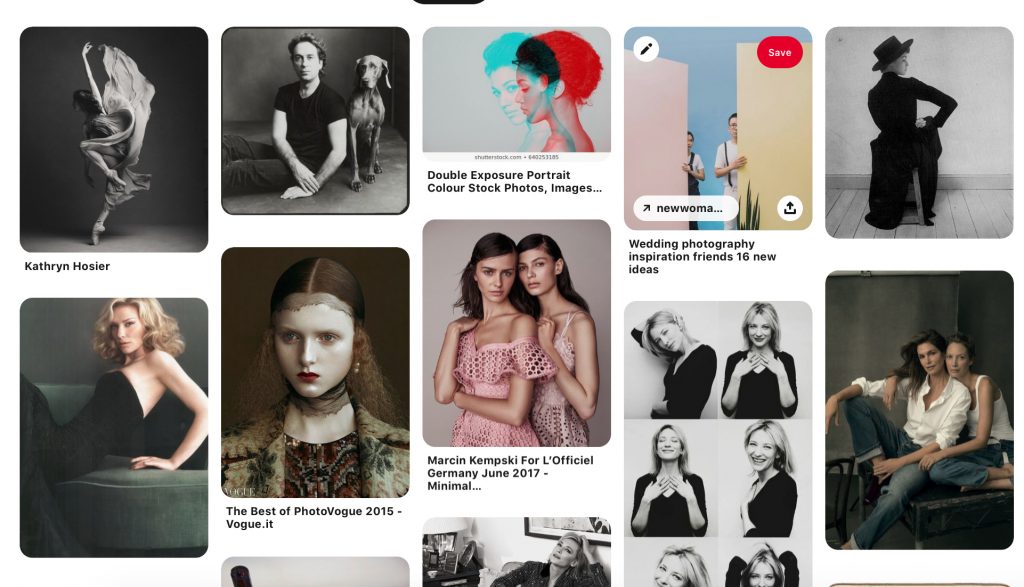 Once my client has pinned 30 or 40 photos, I begin to look for threads, and I make notes. For example, I might note that someone pinned mostly black and white photos. Or maybe that she was drawn primarily to two kinds of lighting. That in two-thirds of the photos, the woman was looking directly into the camera. I also note the moods of the photos. What percentage reflects joy? How about introspection? Is there movement, or mostly stillness?
I study each mood board in order to design a portrait session that is specific to each person. No two have ever been the same.
By the time my client arrives for their portrait session (usually about six weeks after booking), we will have all the details worked out, including wardrobe and hair and makeup styling by my professional stylist. I will have a plan for each lighting and backdrop setup, and even posing (which is more about body language). All that is left for them to do is to relax and enjoy their special day, while I direct them the entire time.
About ten days after the portrait session, my client will return to view their portraits for the first time, and to choose their favorites. This is where my clients often use the word "magic." But it's not magic, it's keen observation, and the systematic discovery of what people want, even if they don't know. I believe that every single person is beautiful, and my purpose as an artist is to show them.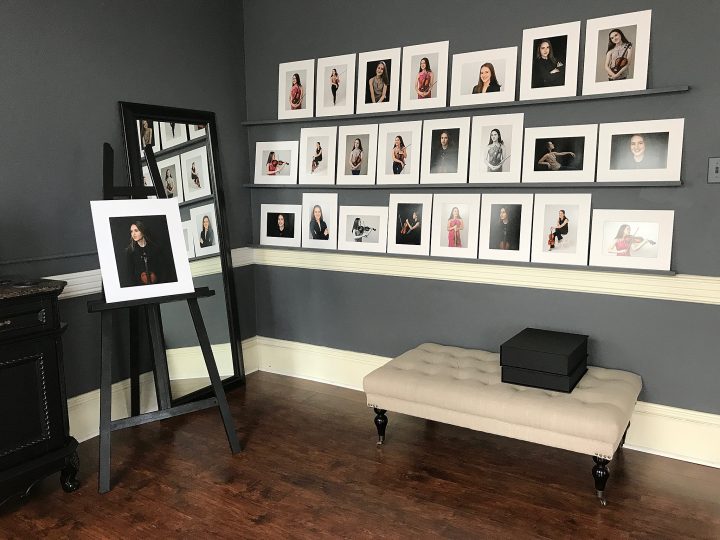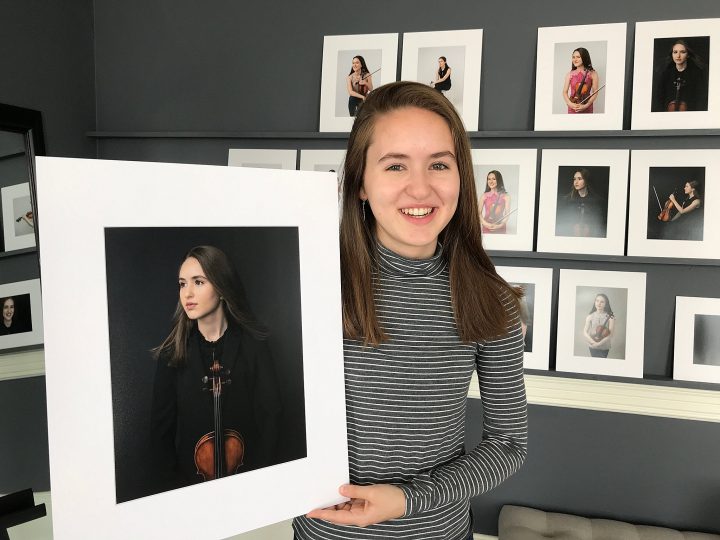 "At one point during our photo reveal session, as we stood speechless before the wall featuring Maundy's portraits of our daughter, I remarked that Maundy was a magician. Like a true artist, she worked all kinds of creative magic, from planning the lighting and composition of each frame, to knowing how to advise us in selecting outfits, to creating a relaxing and hopeful atmosphere during the photo shoot. At every step along the way, Maundy displayed patience and confidence, all the while thinking carefully about the technical aspects of her craft that would present our teenager in the best light. We could not be more pleased with these works of art that will be treasured by our family for years to come!" – Julia V.