In addition to the digital Portrait Experience and Headshot Sessions, I offer Tintype Sessions, resulting in one-of a-kind photographs made on metal plates. Each tintype is handmade. Using the wet-plate collodion method invented in the mid-19th century, I create an original, unique, tintype portrait.
The plates are individually prepared by hand in the darkroom and must be exposed and developed within a few minutes. I use an antique camera and lens to create gorgeous softly-focused images.
I enjoy sharing the process and its history with all my clients. You will never forget this amazing experience!
You can see more about this process, including some behind-the-scenes photos from a tintype session HERE.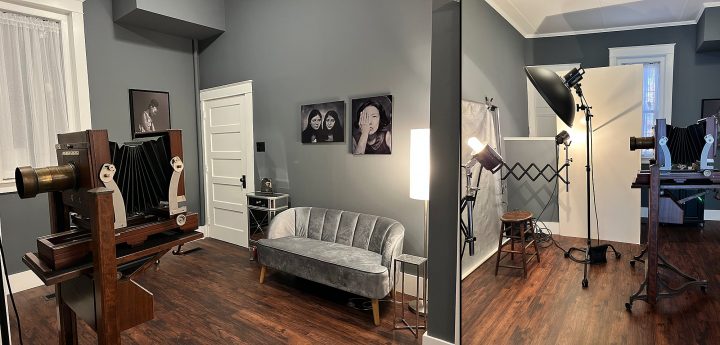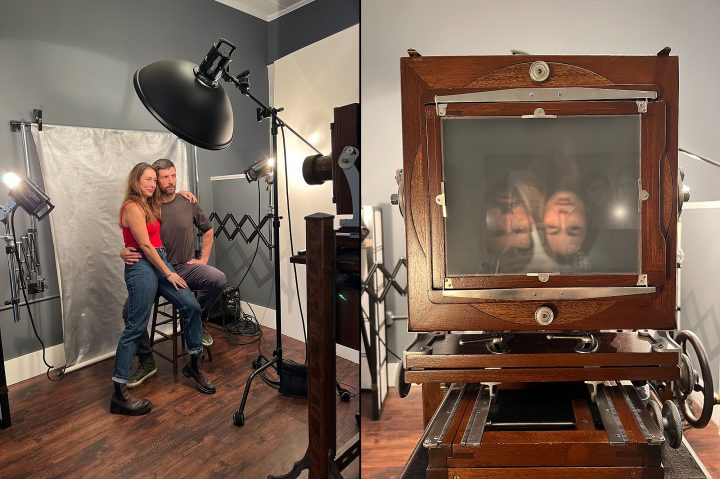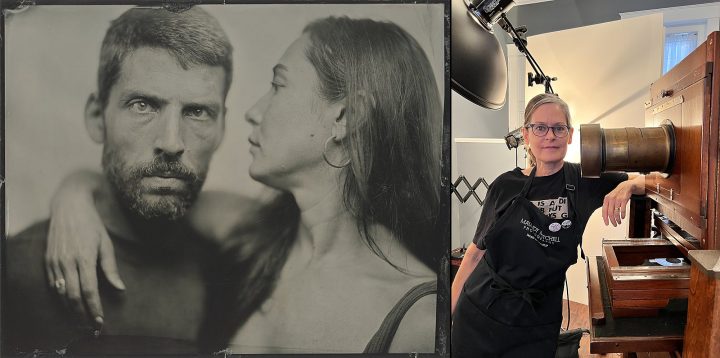 "As someone who never feels photogenic, sitting for a portrait, especially a tintype where the results are so immediate and true, feels intimidating. Maundy cultivated the session into an intimate, comfortable, and fun experience, one that was perfect for our wedding anniversary as me and my husband were able to connect and bond, participating fully in the creation and development of the images in the dark room. From beginning to end, Maundy works to help you shed layers and get at the core of who you are, and that is what shows up in the tintype. Doug and I will never forget the wonderful morning we spent creating these memories and pieces of history in her studio. Maundy is a true artist and will help you to connect with your humanity and soul. 10/10 would recommend." – Emma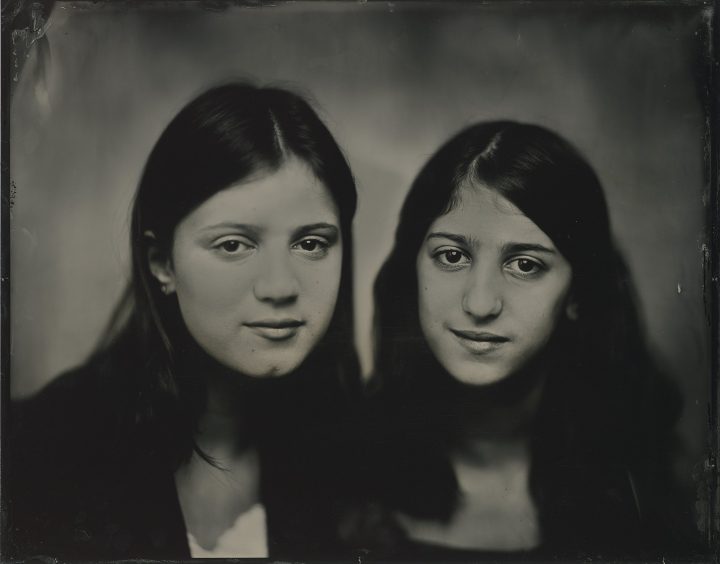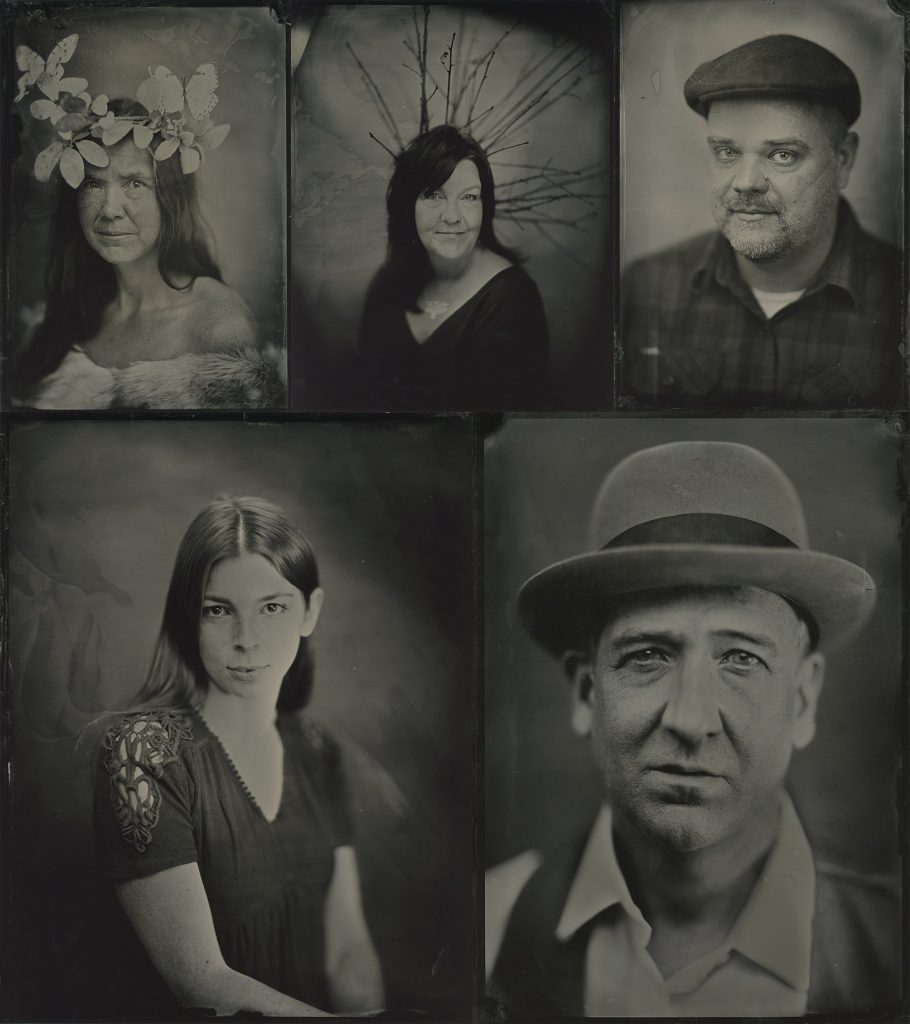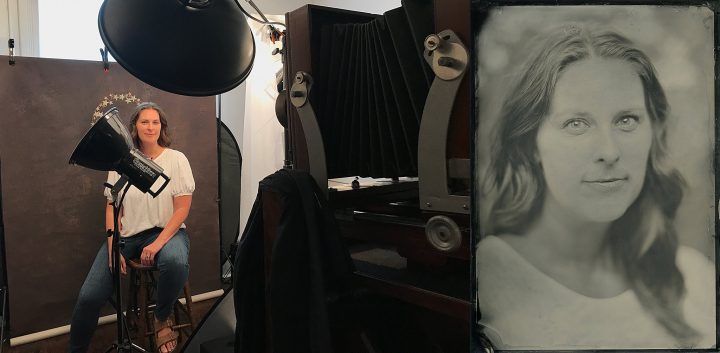 "This was a bucket list item for me. I have always loved tintype photographs so I was excited to see the process in person. (And just as I thought, it was so detailed and fascinating!) Maundy is so professional and easy to work with. She has passion for what she does. As an artist myself, I love to support other artists and this was a great experience. Highly recommend." – Brittany
See more from this session here: https://maundymitchell.com/tintype-portraits-for-an-artist/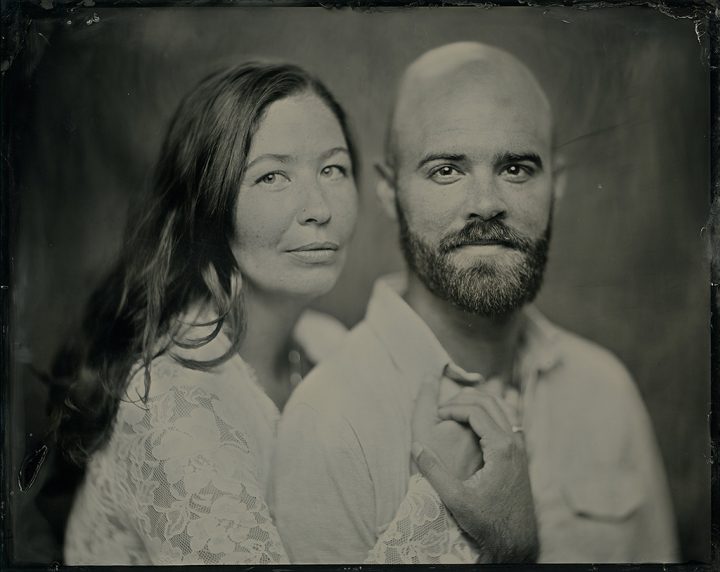 "My wife and I booked a tintype session with Maundy for our 10th anniversary. Maundy was so helpful and responsive with her communication while answering questions and getting the session booked and leading up to the day of the shoot. The day of the shoot was truly a dream. Maundy is clearly passionate about what she does and her warm and fun approach to the process put us at ease immediately. Being a part of the process from planning, to understanding the science and sequence of events to make the tin type portrait come to life was so special. As a creative myself it was a true joy to immerse myself briefly in someone else's world. I cannot recommend Maundy more highly. She is a true artist and the results of our session are absolutely beautiful." – Drew Gundlach
See more from this session here: https://maundymitchell.com/a-tintype-for-a-tin-anniversary/

"Tintype portraits are very rare these days, yet Maundy provides a very friendly, informative, and comfortable experience. She is so warm and this helps to draw out the most intimate and relaxed expression from you resulting in a very precious portrait. Maundy delights in guiding you through the whole experience. Every step of the way from first contact, preparation for the session, and through the posing in the studio. Not only will you have a special experience, you are sure to have a very unique portrait of yourself. I highly recommend the experience." – Hwakyung Chang
See more from this session here: https://maundymitchell.com/a-tintype-experience-for-three-friends/