You may not think of tin and aluminum as romantic gifts, but Drew and Molly came up with a most romantic "tin" gift to celebrate their first decade of marriage: a tintype portrait session.
There is a tradition for wedding gifts that goes back hundreds of years. The origin is cloudy, but there is united agreement about what a traditional gift is for each year of marriage. They include paper, cotton, wood, copper, and many other materials. Some couples get inventive as they work these themes into their anniversary each year.
The traditional tenth wedding anniversary gift is tin. You might discover the modern alternative, which is aluminum. Because they don't rust, these materials keep their shine over time. They are a symbol of strength and resilience.
To create a tintype – also known as a wet-plate collodion portrait – takes many steps, including the hand-pouring of chemicals on a sheet of enameled aluminum. This is how I make the "film." I use an antique camera and lens to create the portrait. The process was invented in 1851. I think of it as a sort of Victorian Polaroid.
Because they are truly archival, tintypes that have been passed down from generation to generation are often still found in near-perfect condition – beautiful heirlooms!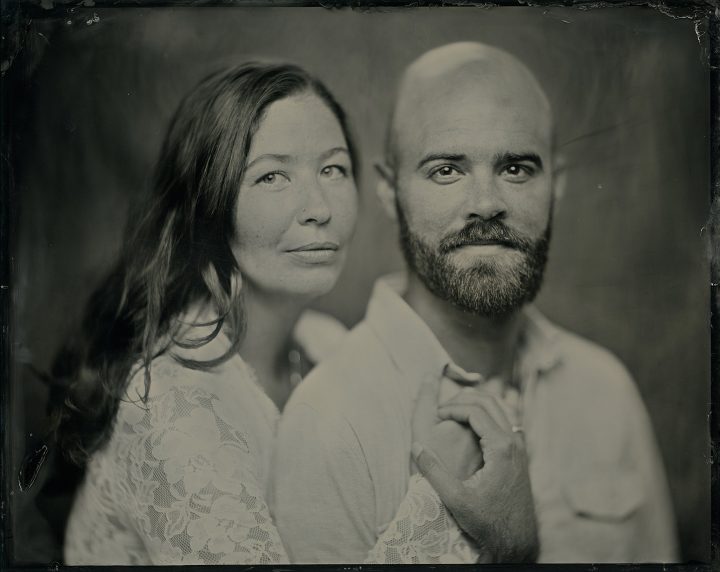 "My wife and I booked a tintype session with Maundy for our 10th anniversary. Maundy was so helpful and responsive while answering questions leading up to the day of the shoot.
The day of the shoot was truly a dream. Maundy is clearly passionate about what she does, and her warm and fun approach to the process put us at ease immediately.
Being a part of the process from planning, to understanding the science and sequence of events to make the tintype portrait come to life was so special.
As a creative myself, it was a true joy to immerse myself briefly in someone else's world. I cannot recommend Maundy more highly. She is a true artist and the results of our session are absolutely beautiful." – Drew G.