Brittany Soucy is an artist who lives on the seacoast in New Hampshire. Her studio is in a 200-year-old barn, where she paints in oils and watercolors. She paints nature, still lifes, and sometimes, faces. Sometimes she uses large brush strokes and sometimes small. Sometimes the scene feels still, and sometimes it gives the viewer the sense of movement. The thing that I think all of Brittany's work has in common is a feeling of serenity.
Brittany was asked for a current headshot for an upcoming exhibition of her work. She has always loved tintype photographs. In her search for someone to create headshots for her, she found me and saw that in addition to the digital Portrait Experience and Headshot Sessions, I offer Tintype Sessions.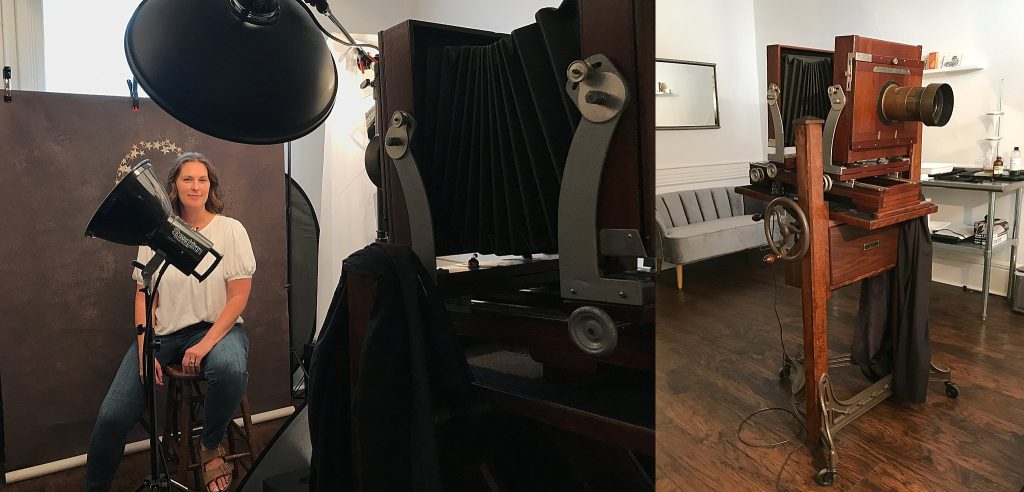 Tintypes are one-of a-kind photographs, hand-made on metal (aluminum) plates. Using the wet-plate collodion method invented in the mid-19th century, I create original, unique, and truly archival portraits.
The plates are individually prepared by hand in the darkroom (which is an old bank vault from the 1930s). Then they must be exposed and developed within a few minutes. I use an antique Deardorff camera from the 1920s, and a Dallmeyer brass portrait lens from 1867. With these, I intentionally create soft-focused images.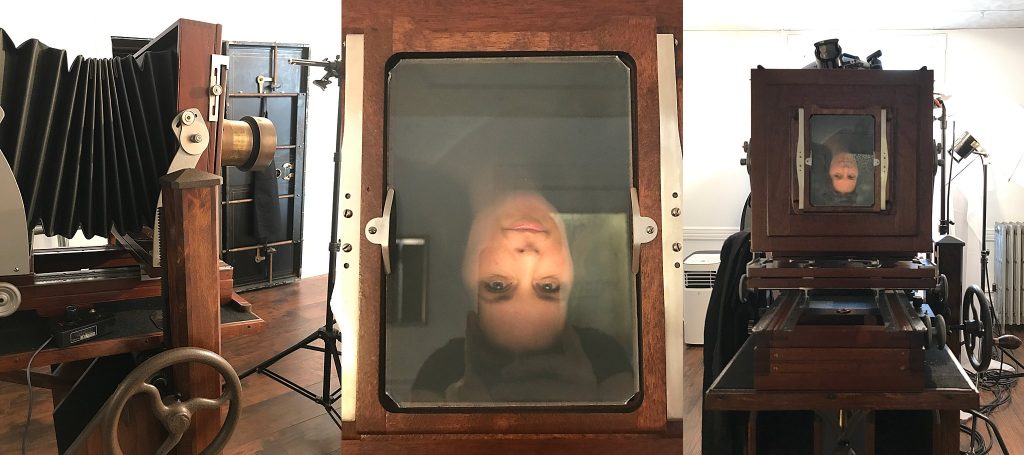 When I focus this camera, the image appears upside-down. It always makes me think of the classic Houdini poster, where the woman is upside-down in a water tank. It does seem like magic, but I promise – my subject is actually right-side-up and there is no torture involved!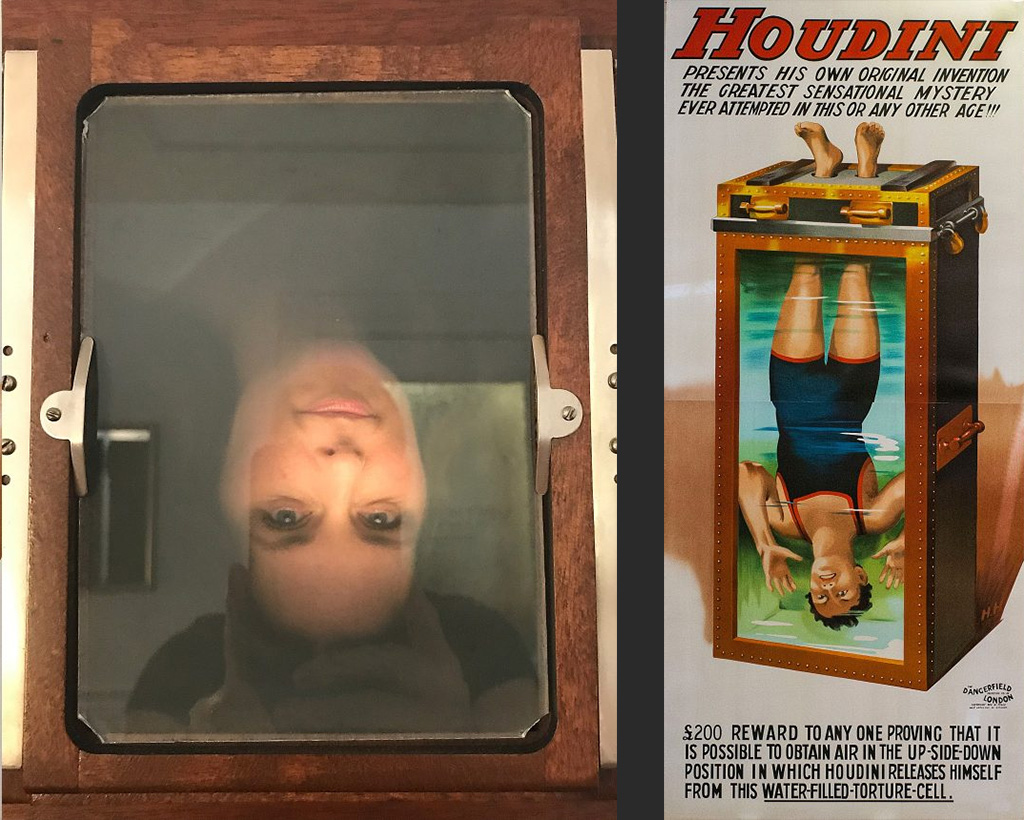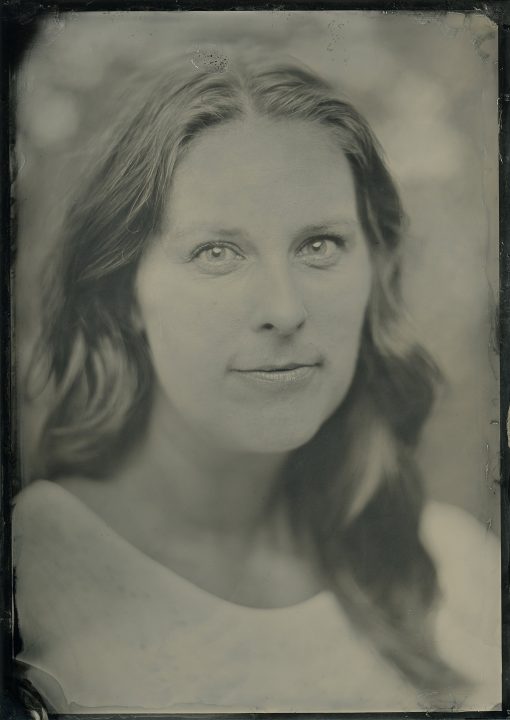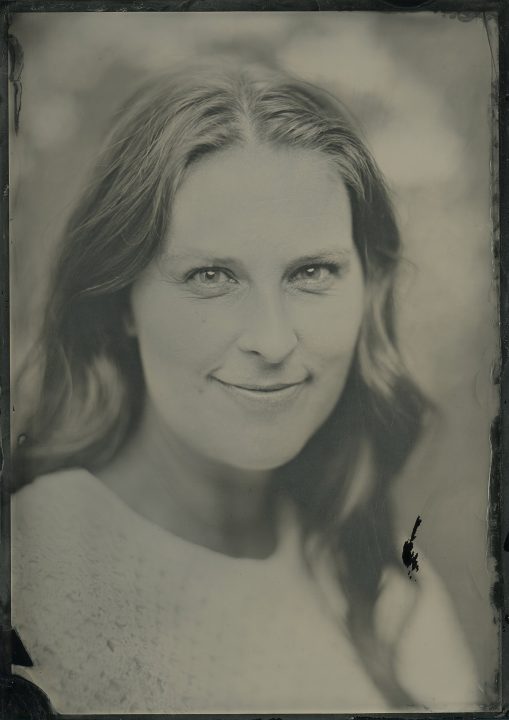 Brittany brought her daughter, Anna, who is a graphic designer. I enjoyed sharing the process and its history with these two artists!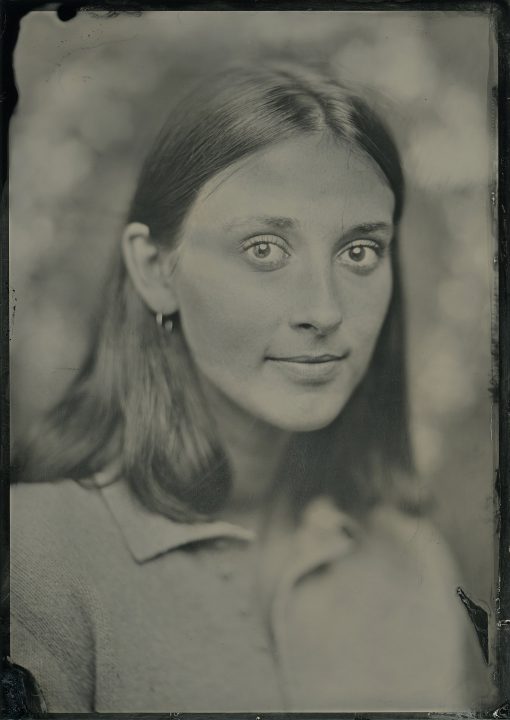 "This was a bucket list item for me. I have always loved tintype photographs so I was excited to see the process in person. (And just as I thought, it was so detailed and fascinating!) Maundy is so professional and easy to work with. She has passion for what she does. As an artist myself, I love to support other artists and this was a great experience. Highly recommend." – Brittany