A Virtual Live Photo Session
As much as I am looking forward to returning to work with people in my studio, the challenging circumstances of the pandemic have allowed me the opportunity to learn, to invent, and to create. Staying creative always means that I have more to offer my clients, and I can't wait to see you all in person!
One World Portraits is a series that resulted from the limitations of the pandemic. I decided to set up a mini-studio in my home loft office. I meet with people by Zoom. (I'll be honest – sometimes, they can hear my dogs barking at chipmunks outside!) I tell people how to find pretty light, how to set up the laptop (eye level), and then I direct them in terms of posing. Then I use a projector to place them into a scene, and I photograph this scene with my camera. Each scene is different, and each person becomes art on a wall.
In this way, I can photograph anyone, anywhere, as long as they have an internet connection and a device with a camera. Even with travel restrictions, closed businesses, and stay-at-home orders, it becomes one world again. My hope is that this experience will help people find a moment of joy, remember that art is still relevant, and that these portraits will serve as a memento of this time.
Amy lives in New London, New Hampshire. She loves her cats, and travel, especially to the U.K. She is also a swimmer. I decided on an English cottage theme for her set, with art by my grandmother. The art on the wall is a swimmer, a sketch she made in the 1940s, while the cat is a block print she made in the late-1990s, when she was in her eighties.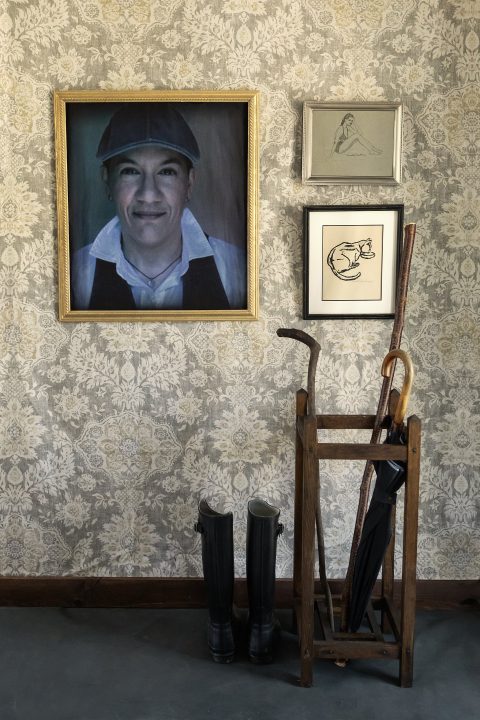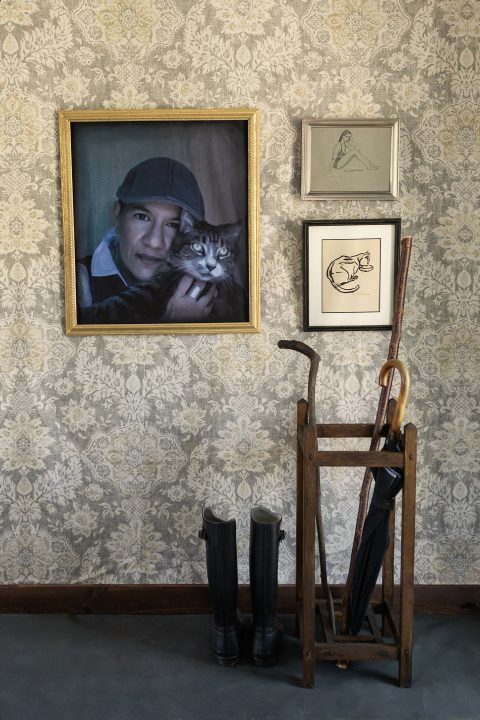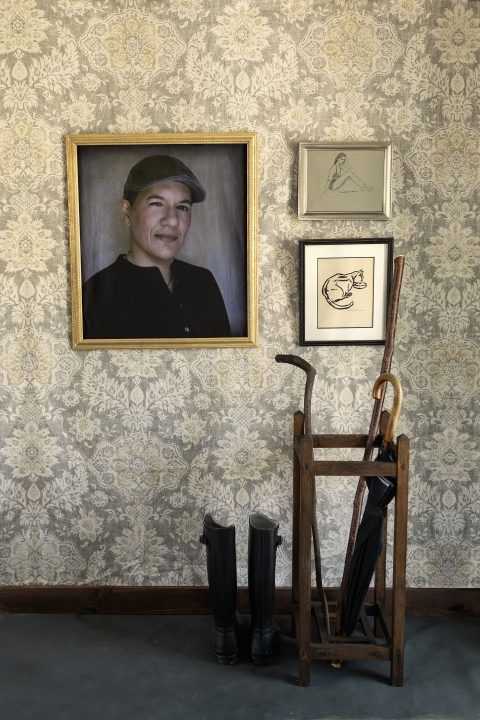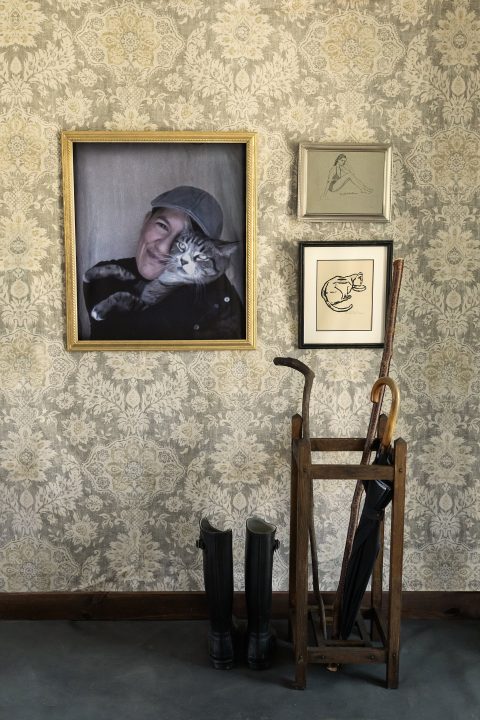 "I've done three other photoshoots with Maundy prior to this, so I didn't hesitate to book one of her One World Portraits sessions. She always manages to make the picture-taking seemingly effortless, and her energy and love for what she does is catching. I was interested in this particular project because I'm a techie as well as a creative, and I wanted to see just how she merged the two. I couldn't be happier: now I've got these wonderful photos, and a great memory of this unprecedented moment in time. I can't recommend the experience enough—it's a way to give yourself a short break from the seriousness in the world and just have some fun." – Amy