Manhattan Arts International
I'm happy to announce that my work has been chosen for Manhattan Arts International's 2022 exhibition called "HerStory." This exhibit features more than 50 women artists from around the world.
My wet-plate collodion (tintype) portrait of Hwakyung was chosen by curator Renee Phillips. I created this 5×7 portrait in 2021. It was the result of a session for celebrated photographer Hwakyung Chang, who traveled to NH from South Korea. You can see more from that session HERE.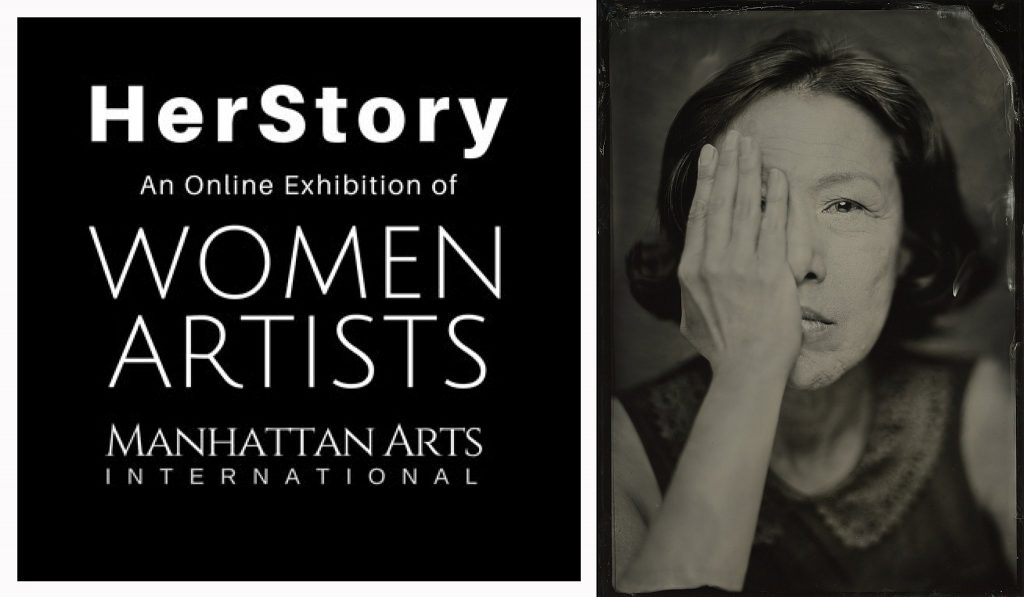 Curator Renee Phillips writes, "For centuries women artists have inspired and enlightened us with their enormous talent, vision and commitment. Many have served as creative trailblazers in their chosen styles and mediums. Their contributions have gone under-recognized and they haven't received the accolades they deserve. We will continue to present annual "HerStory" exhibitions until there is a fair and equal balance of women artists represented by art museums, galleries, art book publishers, major private and public collections, auction houses, and the media.
"… we invited women artists worldwide to submit JPEGs of their artwork, statements, and links to their websites in order to learn more about their creative vision. The art entries for 'HerStory' were judged on originality, innovation, and technical skill. I always seek art that has a significant impact on the viewer, and provokes our interest, inspires contemplation and insight, and transforms us.
"The artist's vision and statements were highly considered during the curatorial process. Finalists were selected after I visited entrants' websites to view their overall body of work and learn more about them and read their CVs."
Along with this portrait, I submitted my artist statement: "Henry David Thoreau wrote: 'Could a greater miracle take place than for us to look through each other's eyes for an instant?' In my work, it is always the magic of the human experience that I celebrate. I am interested in connections between subject and viewer. I seek to evoke compassion for the subject toward herself, as well as to raise the perception of power of the subject in her own eyes, and in the eyes of others."
You can view the entire exhibition HERE until March 31, 2022.