Exhibit at the Touchstone Gallery, Washington, D.C.
I'm pleased to announce that one of my portraits, Protest Portrait: Nakiya #1, from the Protest Portraits series has been selected for an international online juried exhibit called "Us: What divides us and what unites us?" at the Touchstone Gallery in Washington, D.C.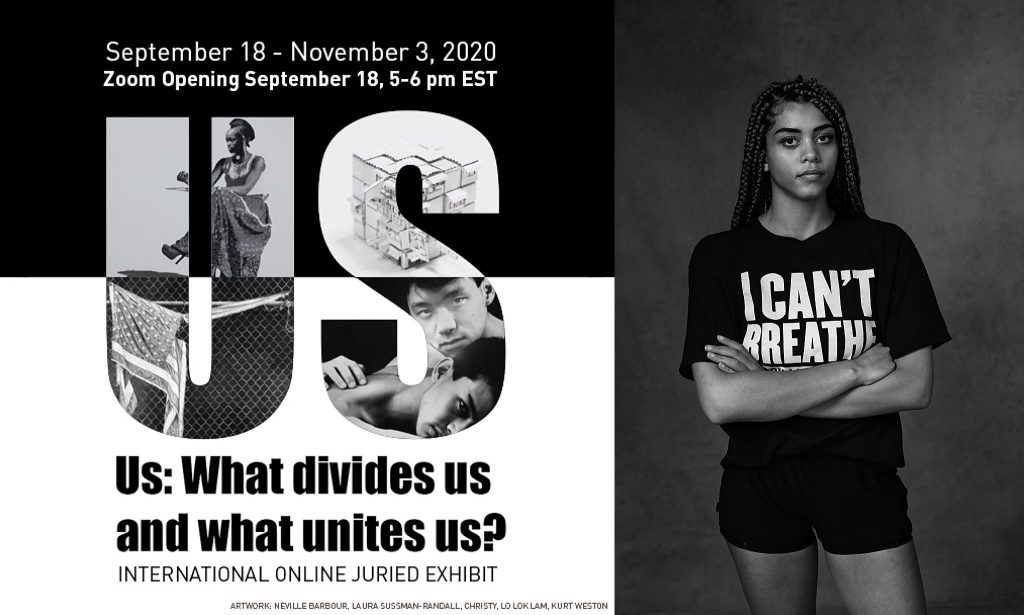 FOR IMMEDIATE RELEASE
September 18 – November 3, 2020
International Virtual Juried Exhibit
Virtual Opening Reception: Friday, September 18, 5 – 6pm EST
Please RSVP here: https://www.touchstonegallery.com/call
Program: DC Office of Cable Television, Film, Music & Entertainment representative welcome remarks, jurors in attendance remarks, selected artists speak about the theme, cash awards
JURORS
– Kimberli Gant, PhD, McKinnon Curator of Modern & Contemporary Art, Chrysler Museum of Art, Norfolk, VA
– Kristen Hileman, Independent Curator & Curator-in-Residence, The Delaware Contemporary, Wilmington, DE
– Frauke V. Josenhans, PhD, Associate Curator, Moody Center for the Arts at Rice University, Houston, TX
– Miranda Lash, Curator of Contemporary Art, Speed Art Museum, Louisville, KY
– Karen E. Milbourne, PhD, Senior Curator, National Museum of African Art, Smithsonian, Washington, DC
– Gabriel Ritter, PhD, Curator & Head of Contemporary Art, Minneapolis Institute of Art, Minneapolis, MN
Touchstone Gallery presents its international juried exhibition: "US: What divides us and what unites us?" Six jurors selected 51 works created by 51 artists, addressing a broad array of outlooks on the divisive differences and the unifying connections between people at this historically challenging time in our nation's history and around the world. This is Touchstone's fourth juried exhibition in four years, following the successful ""Art as Politics" (2016), "Art as Engagement" (2017), and "America Is . . . " (2019).
The selected works represent a wide variety of media, including large-scale installations, painting, drawing, photography, multi-media, ceramics, wood and metal sculpture, and fiber. The pieces cover many thought-provoking subjects — such as racial injustice, the Black Lives Matter movement, the Covid-19 pandemic, community, polarization, education and socio-economic diversity.
"US received an ambitious number of submissions and it was exciting to see the range of materials, approaches and visions among them. In these times of so many divides, seeing how artists address the ideas around which is how we define ourselves, our communities and find the threads that connect was inspirational." says juror Karen E. Milbourne. "Many pieces were not optimistic, but they all reveal a commitment to awareness, social change, and a stronger future." "At a time when a global pandemic that keeps us physically apart collides with tumultuous socio-political division, the art in this exhibition offers a point of connection, around which we can think, debate, and problem-solve together." adds juror Kristen Hileman Kristen Hileman. Juror Frauke V. Josenhans states that "The selected artworks poignantly illustrate our shared humanity, its fragility but also its force to question and to persist." "In this deeply precarious moment we now find ourselves in, it was heartening to see such a wide range of works that spoke to the complexity of the human condition. These images of strength, tenderness, pain and resilience largely serve to celebrate our differences, while others acknowledge the failure of our current systems to create a just and equitable society." summarizes juror Gabriel Ritter.
Participating Artists: 180_Collective (Sonya Rademeyer and MyMalaika_Photography), Gary Aagaard, Noel Anderson, Neville Barbour, Bobbi Baugh, Valerie Bernat, Cynthia Brannvall, Sara Slee Brown, Dennis Carrie, Alonzo Crawford, Margaret Curtis, Connor Czora, Brent Dedas, Andy Fernandez, April Fitzpatrick, Alice Fornari, Jenne Glover, Nadia Goldstein, Diane Helentjaris, Michelle Lisa Herman, Pauline Hudel Smith, David Hylton, Leonard Jewler, Barbara Bryn Klare, Dana Kotler, Jonathan Lee, Rosa Leff, Chantal Lesley, Judith G. Levy, Christy, Lo Lok Lam, Shelley Lowenstein, Emilio Maldonado, Dave Mann, Jane Mann, Rosemary Meza-Des Plas, Maundy Mitchell, Kristina Penhoet, Dimitris Pikros, Matthew Rentz, Chris Revelle, Sawyer Rose, Sonya Sanchez Arias, Kaoru Shibuta, Caito Stewart, Laura Sussman-Randall, Peter Swift, the2vvo: Eldar Tagi and Lena Pozdnyakova, Dorri Thyden, Wakana Tsuji, Dawei Wang, Kurt Weston.
Touchstone Gallery was founded in 1976 in Washington, DC. The gallery regularly shows the artwork of its member artists and is committed to providing a forum for artists from across the country and abroad to exhibit in the nation's capital as well. Touchstone Gallery has been voted Best of D.C. for three years in a row by The Washington Post readers, and four years in a row by Washington City Paper readers. Gallery's physical location has been temporarily closed since March 13, 2020 due to Covid-19, the gallery remains open online.