Sometimes a Delicate Touch, Sometimes a Fierce Fire
Why did you want to participate in the Unforgettable: the Over 50 Revolution?  "I wanted to participate in 'Unforgettable' to stand as an example of a confident, self-accepting, middle-aged woman. Midlife women in our culture are so easily erased or diminished in a time in our lives when we have increasing power and strength.  Showing up in the fullness of the mature feminine power is encouraging and empowering to our midlife sisters as well as to the young women who are looking to their future lives.  Standing in my truth is a joy and a responsibility to those who got me to this point in my life and those who will follow."
In preparation for each portrait session, I create a mood board with my client. This helps me to determine the kinds of portraits they'd like, even if they aren't sure. Below are a few images from the mood board that Mary Francis and I created together. Inspiration for this session came from vintage pinup wallpaper (resulting photos not shown publicly); Goya paintings (including "La Maja Desnuda"); Joan of Arc; a depiction of Minerva, Goddess of Widsom; portrait paintings by Botticelli, and a scepter that Mary Francis had made. The colors red and gold were common in her mood board choices, so these colors greatly influenced the styling of her session.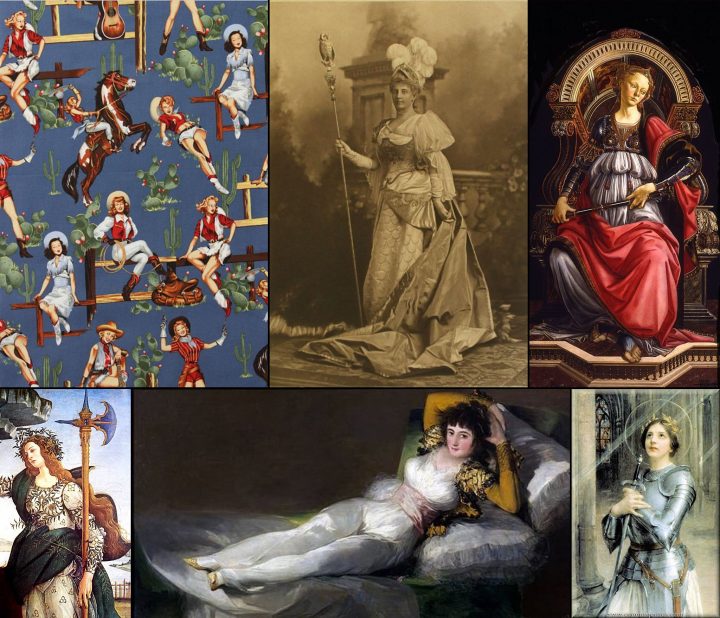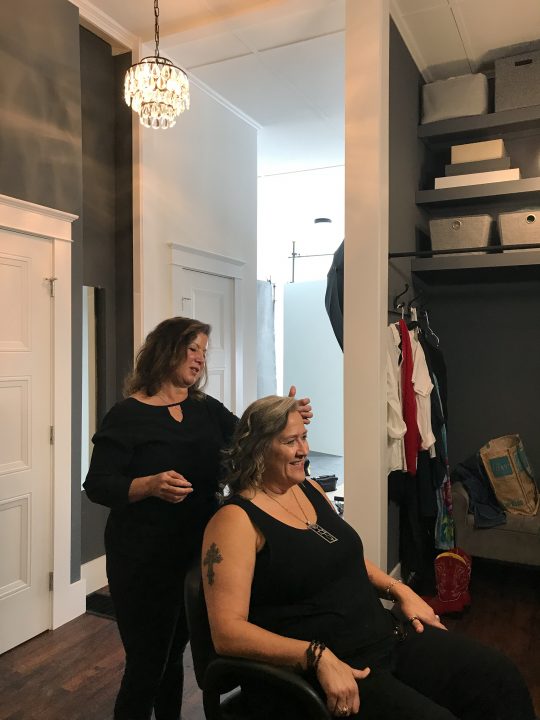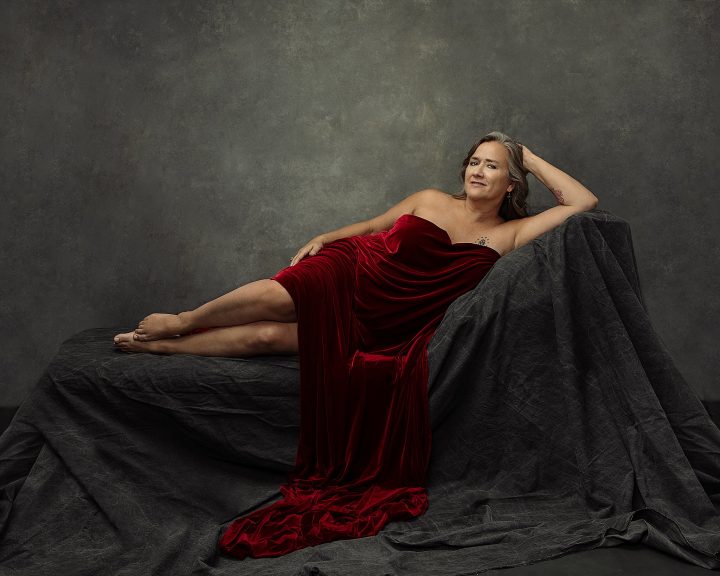 What are your thoughts about women over 50? "I love midlife women because they have generally past the place of self-consciousness and facade and are getting real and raw. Life experience and wisdom come to the forefront of women's experience as we age. We no longer put up with bullshit from the powers that be. We have exquisite compassion for those in need. We are fierce protectresses of the fragile people, animals and the environment. The job of a midlife woman is to speak truth to power, protect the weak, serve those in need, and shine our loving kindness on the world. Sometimes this takes a delicate touch and sometimes a fierce fire. Both of these are qualities of the midlife woman that I espouse and encourage."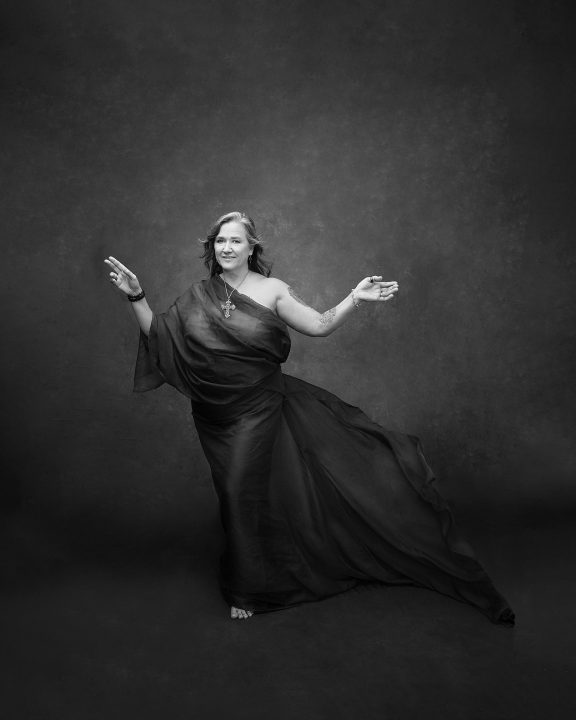 How have you changed since you turned 50? "Life feels much simpler since I turned 50. I was thrilled to cross that remarkable threshold and come into a deeper knowing of myself and my place in life. I have since gone through the powerful transition of menopause which leads us into the elderwoman status. This transition grounds wisdom and insight into our being. Our world needs wise women whose skin is toughened and whose heart is softened. Our voices must be heard in order to create the more beautiful world our hearts know is possible."
Growing up, did you have any women role models? "As I child, I had examples of women who were loving but oppressed and fierce but unkind. Those examples did not serve me so much as the wise woman that mentored my own mother. Her name was Mickey Ackerman. She was unpretentious, powerful and gifted. I had a healthy fear of her power and a deep curiosity about her way of being. More than my mother or grandmothers, Mickey showed me how to embody the power and wisdom of the feminine. She was a formidable force of wisdom and strength."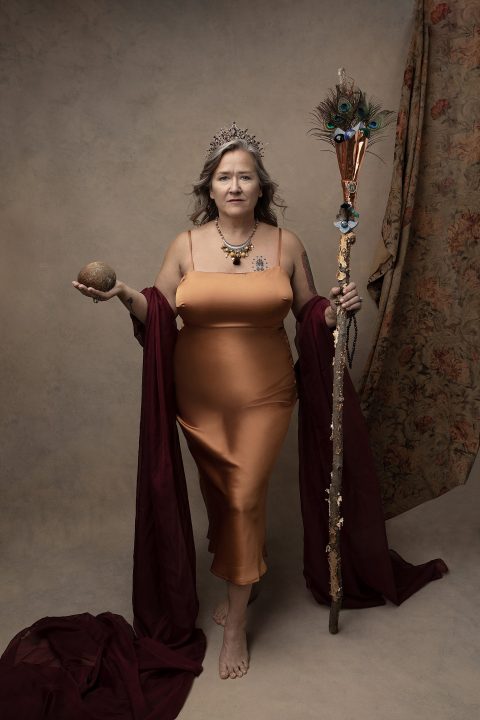 What advice would you give to women who are younger than you? "I would tell young women to find an elderwoman to mentor and encourage them – a woman who will speak truth gently and encourage them to be their best selves. The formation of identity and self-respect takes time, experience and effort. Having a trusted and mature mentor to support this growth is very useful. I have had and still have elderwomen in my life for this purpose."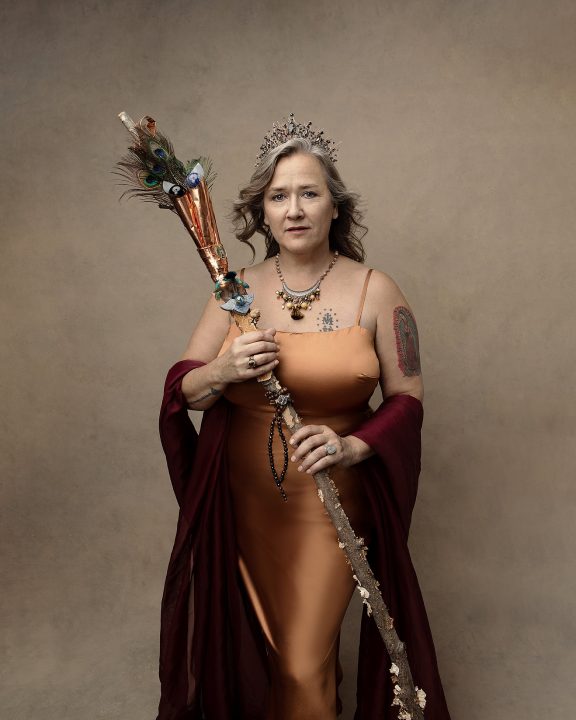 What effect would you like to have on the world? "I believe that the most powerful impact we can have on the world is to find our true nature and live out our life and mission from that place. Each person is unique and will bring a unique gift to the world. In my life, I offer teaching, counseling and spiritual direction to help people find their way home to themselves. The world needs the gifts of each individual in order for all of us to thrive. I experience great joy in supporting people in growing into themselves and freely giving what they came to give. The world will be a better place when we're all more tuned into our part in the collective – both in humanity as well as creatures of the earth. I want to be an example of a midlife woman who lives in this way – true to myself and my personal mission. I hope this example helps others to find their own way."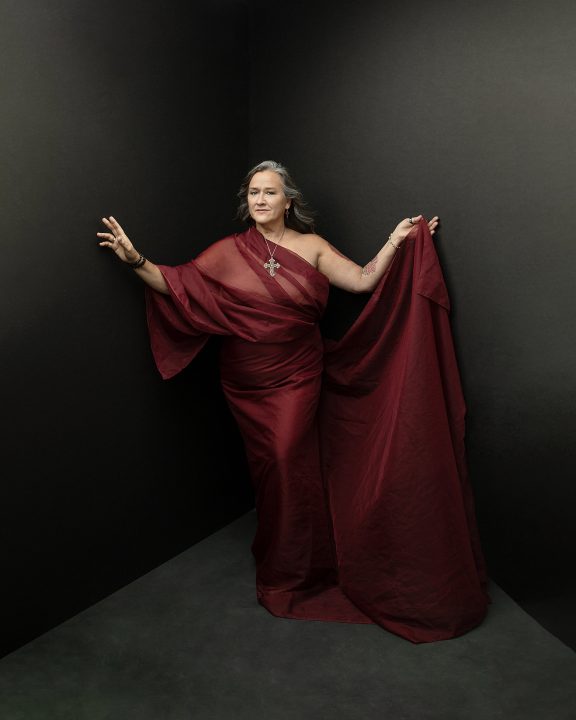 "Maundy has captured my portrait several times in several capacities. From professional headshots for my website, photos for a book cover, and portrait campaigns like her Unforgettable: the Over 50 Revolution, each photo is a work of art — unique, beautiful and powerful. Maundy captures the essence of my being in each aspect of my life. I highly recommend her for your portrait needs!" – Mary Francis
Now booking November and December
If you are a woman over 50, this is for you. It's for everyone who loves you, and for other women of all ages, to show them that they are worthy, too. I hope you'll join me in this revolutionary experience. You can find out more HERE.