Do you ever wonder what goes into a fine art portrait? Ideas come to me in many ways. As I work on them, they grow and change, and sometimes, things don't go as planned…
This particular session came about because of a conversation I had with Erin about her pet snakes. I decided I'd like to do a creative portrait session with them. Erin agreed, so I began to look through art books for inspiration. I created a Pinterest mood board, with the first image and main inspiration being the Minoan Snake Goddess.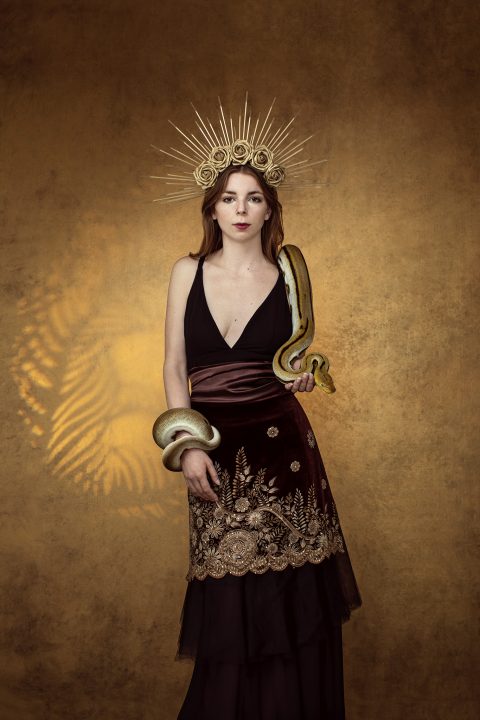 The Minoan Snake Goddess (censored for social media, below upper left) is a small statue which was discovered in Crete in 1903. It was made about 1600 BCE, and there were several versions found.
The statue depicts a woman wearing a long dress with layers of cloth. Over the skirt she wears an apron decorated with a geometric diamond design. The top of the skirt and apron has a wide, vertically-striped band that wraps tightly around the figure's waist.
The symbolism of the Snake Goddess is unclear, but many propose fertility, harmony with animals, and the power of women.
The more I added to the mood board, the more clear the concept became. I wanted to create layers, visually (like Henri Rousseau did in his paintings), and use gold (like Gustav Klimt did in many of his paintings).
I spent hours online, searching for the right dress, thinking about how to project the shadows, and how to incorporate the metallic gold I wanted.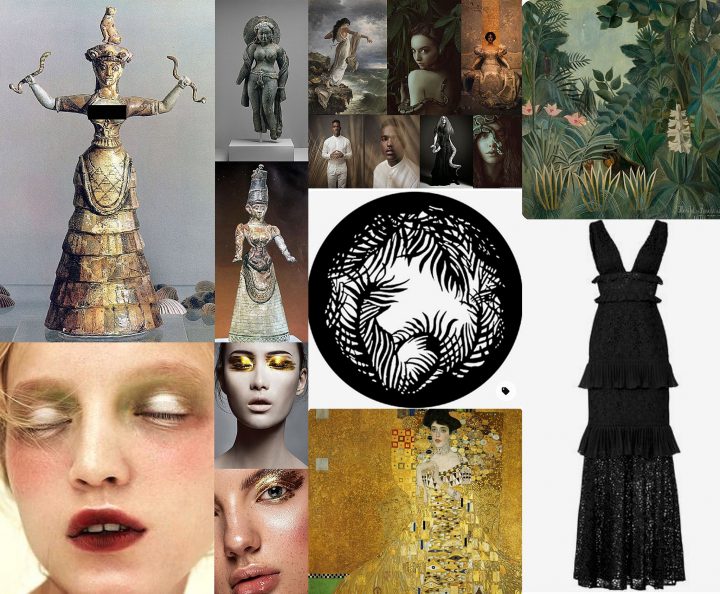 I ordered jungle leaf gobos for a theatrical lighting instrument I own (an old Altman). I got metallic gold paint and, with help from my friend, Kree, painted the backdrop from insulation board. After I made one, I began to realize I should have made two, so I did – and Kree helped me again!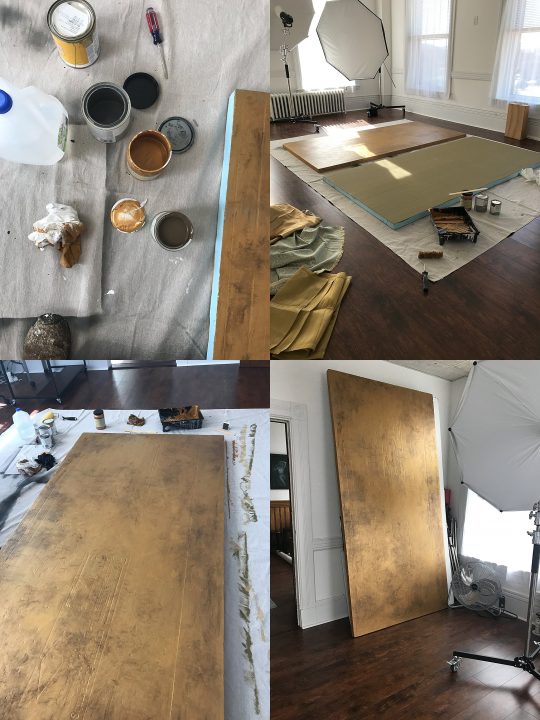 I settled on a three-light setup, using two Profoto heads, the main light in a Softlighter, overhead, angled and feathered, and one behind me in a large umbrella for fill. The third light was only for projecting shadows onto the backdrop and to give a glow behind the model.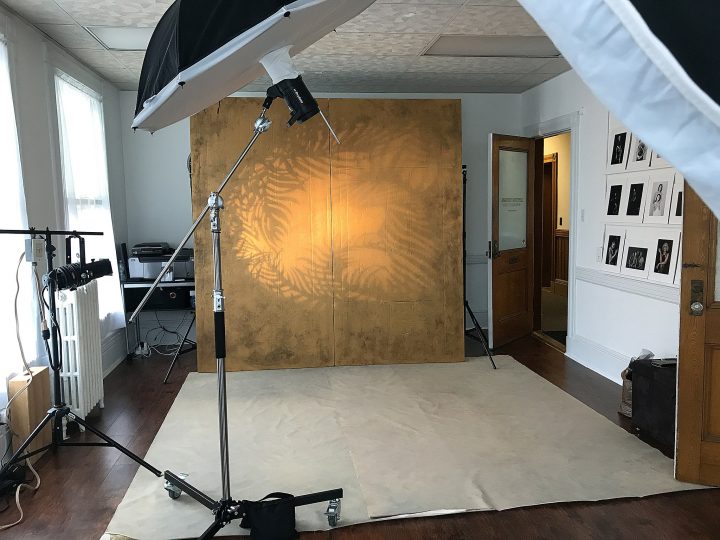 As the session day approached, I had two components of the wardrobe: the crown and the apron. I got the crown on etsy.com, and found the skirt at a local thrift shop. Seamstress Sarah Bunkley fashioned the skirt into an apron.
The dress I had chosen was perfect! Only it never arrived. So early in the morning on the day of the photo session, I searched through my studio wardrobe and scrambled to put together a similar outfit.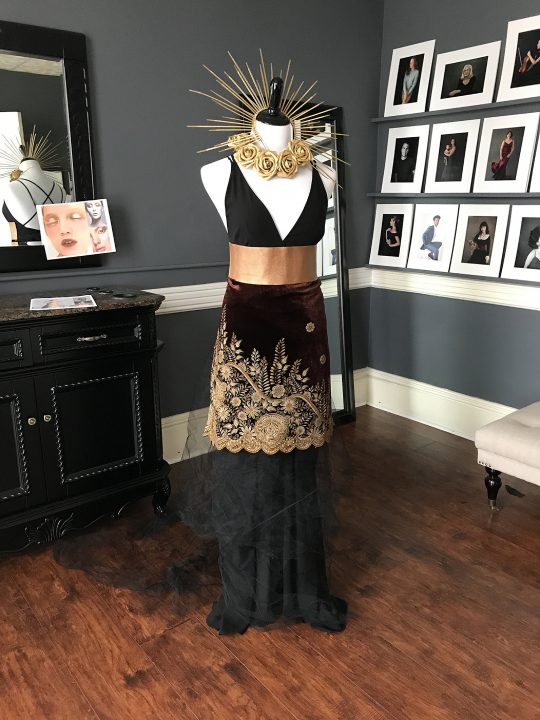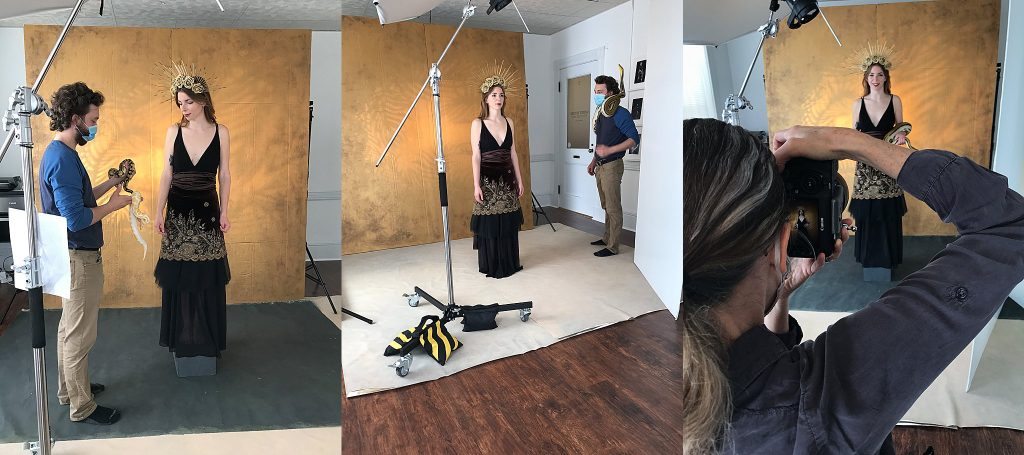 The large snake is named Otto. He's a Dwarf Reticulated Python, and he's young. He will grow to about 12 feet! We also used two of Erin's other snakes, Bindi and Lucille, who are much smaller. They are Ball Pythons. All of the snakes were docile and curious. Erin's boyfriend, Jason, helped with the "snake wrangling."
I got to hold Otto (laughs nervously) while Erin snapped a cell phone pic!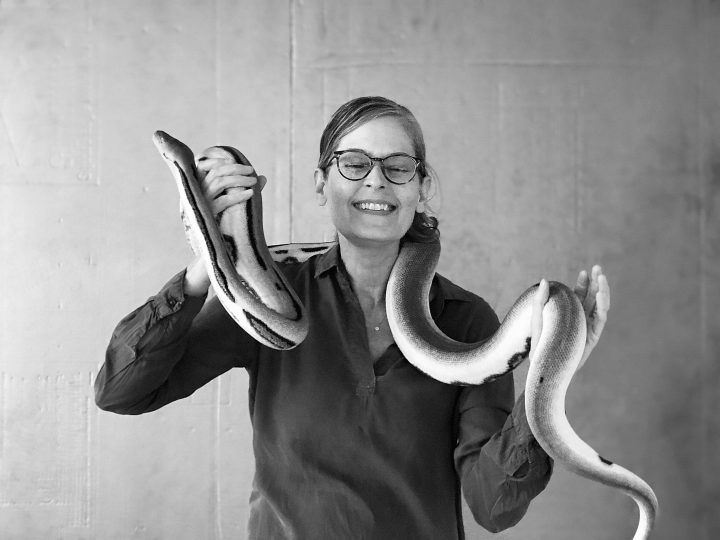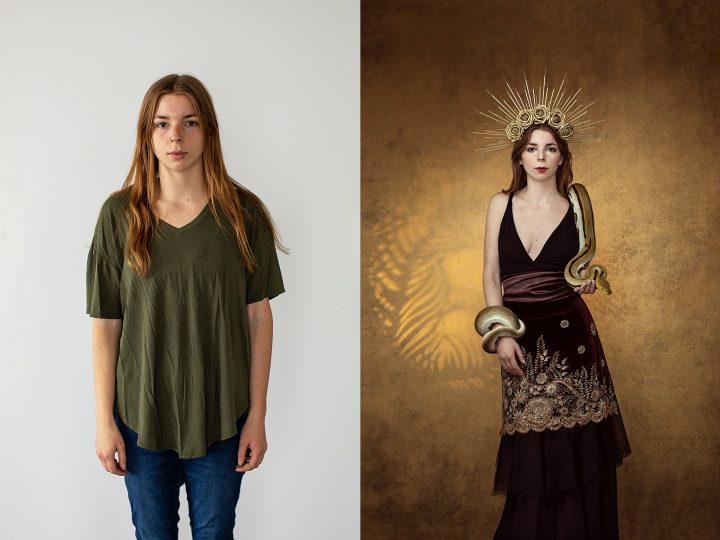 After a couple of rounds of culling, the finished portrait also each involved about eight hours in post-production. There are several other portraits that I will finish and share soon!
Muse: Erin Ganzel
Hair and makeup artist: Donna Cotnoir
Photographer: Maundy Mitchell
Assistant / snake wrangler: Jason Ames
Backdrop painting assistance / wardrobe & prop search help: Kree Woolley
Apron: Ladders Thrift Shop / styled by Sarah Bunkley
Crown: HedsThreads on Etsy
Lighting: Profoto / Altman
Gobo: Rosco
Cameras / lenses: Canon
Post Production: Photoshop / Infinite Color Panel / Exposure Software