You're invited!
Plymouth's monthly art walk is this week!  Join us for an open studio on Wednesday, April 4, 4:00 -6:00 p.m., at 2 Post Office Square, Plymouth, NH.
This month, I will host artist Linda Walsh, a contemporary landscape painter, who will show some of her paintings.  Linda's work shows a deep appreciation of light and texture in nature.  Since retiring from a career in book publishing, Linda has been exploring her life-long interest in the visual arts.  She and her family had visited central New Hampshire since the seventies and eventually settled here.  Her landscape paintings, primarily in oils, speak to her love of the woodlands, lakes and rivers as well as the majestic scenes of the mountains.  Linda loves to experiment with new mediums to explore new forms of expression.
I'll show new work from my long-term personal project Life's Work, as well as new client portraits.
Stop by Open Studio on 4/4!  Let's talk about art, eat chocolate, enjoy music, and drink wine!  Linda Walsh and I would love to see you.
Walkabout Wednesday MAP & MORE INFO: https://www.plymouth.edu/gallery/artwalk/
Linda Walsh's paintings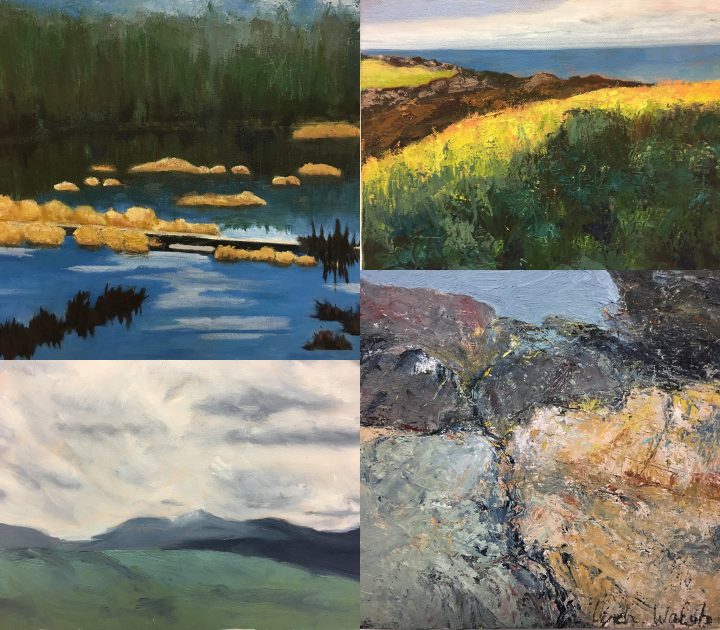 Maundy Mitchell's studio