Kathy is an artist from Massachusetts. When she saw the portraits of women who participated in last year's Over 50 Revolution, she was drawn to each person's richness and beauty. It seemed to her that each woman took the opportunity to show herself in a new way, to explore a side of herself that doesn't always get a chance to shine. She said, "I thought it would be fun, creative, and perhaps surprising, to take part."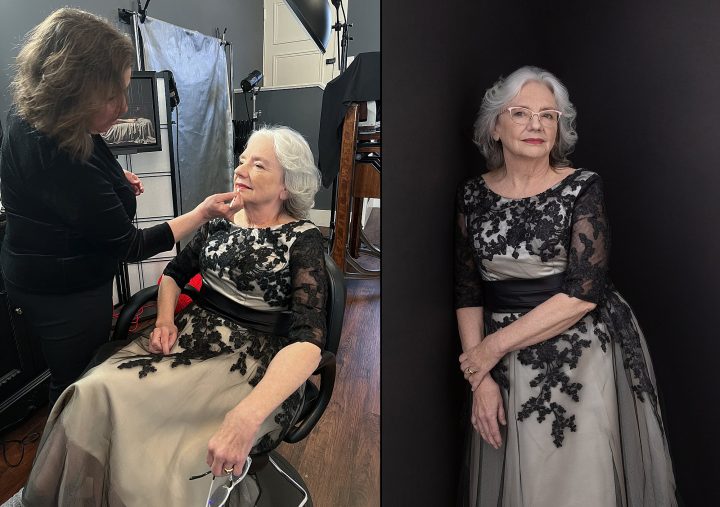 "Turning 50 was actually a proud moment for me. I was thrilled to have made it to the half-century mark, which neither of my parents did. I know this was not the case for some of my friends, who found the milestone painful. It's true that age leaves its mark on your body, but a little gray hair is a small price to pay for this much wisdom! (You may have seen this on a tee shirt – I wrote it.)"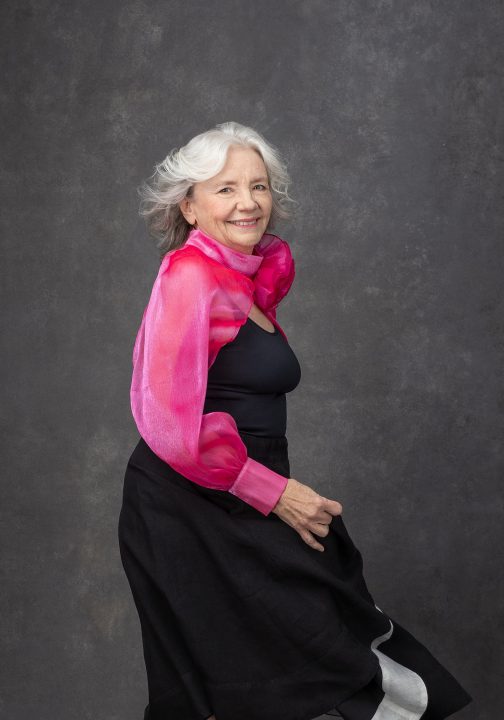 Kathy has learned a lot since she turned 50. "I was just a bit too naive and trusting when I was younger. Now I have a more discerning eye, which has served me well. I've also experienced the joy and privilege of knowing my daughter as a grown woman."
Kathy's best role model was her grandmother, Kate Finnerty Hopfner. "She was deep-down good and very accepting of people. She believed in 'doing the right thing,' which I took to heart."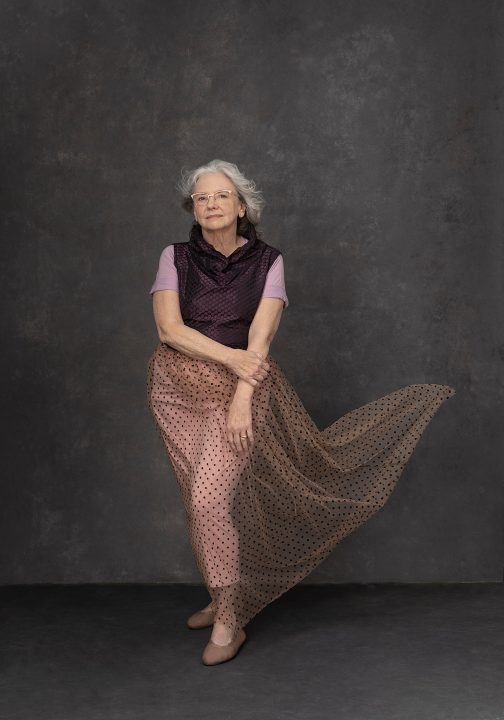 While Kathy was enjoying hair and makeup styling, I photographed her husband, Paul.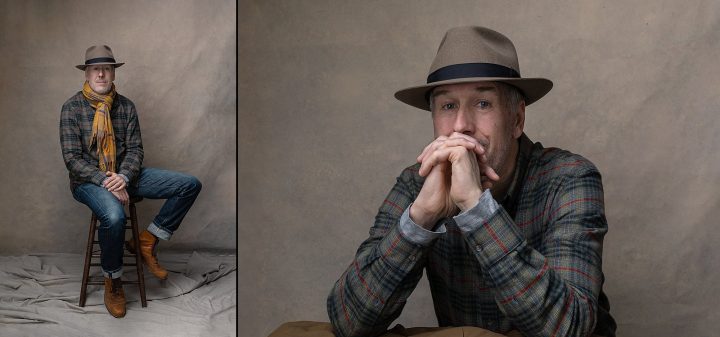 Then he helped hang some of Kathy's artwork to serve as an interesting backdrop.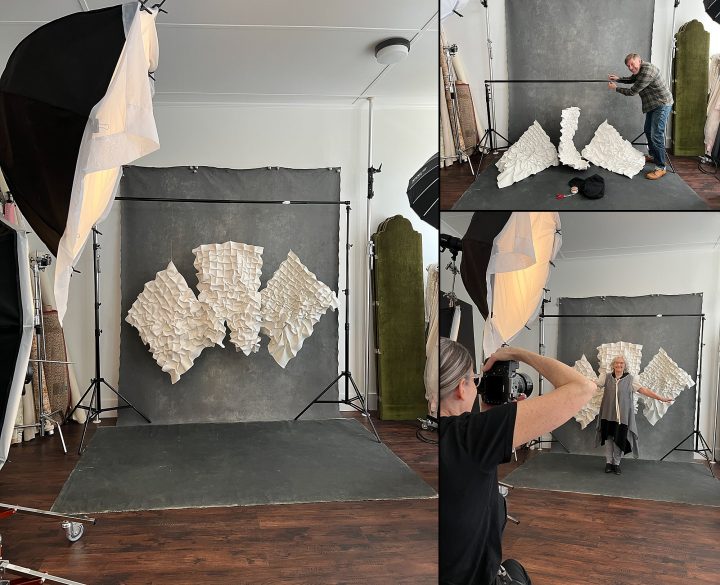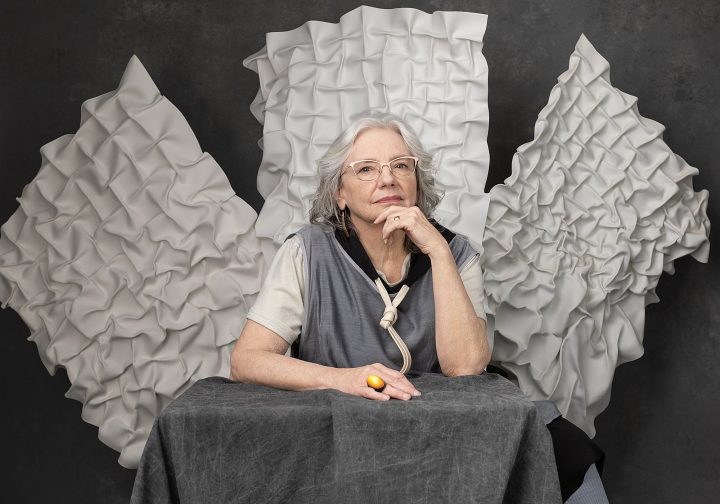 When asked what advice she would give to women who are younger than her, Kathy said, "Do what you love, not what you think will please your family or earn you the most money. Be kind to others. Don't let aging get in the way of living."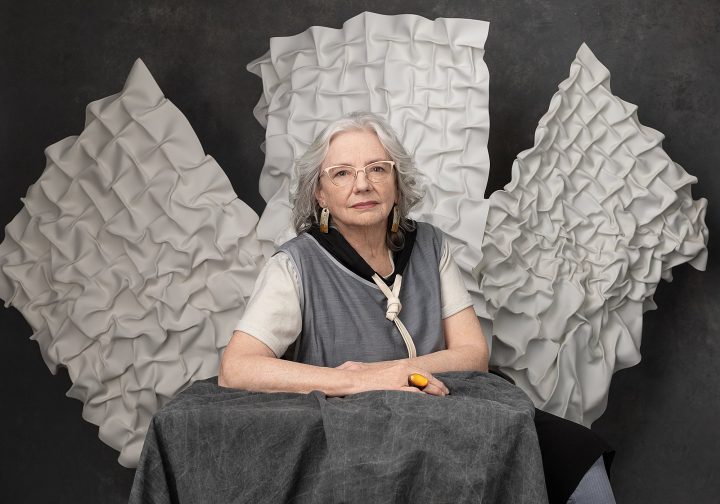 Kathy has worked as a newspaper and magazine editor, a corporate communications executive, a freelance writer and cartoonist, as well as a children's book author. She hopes that she has helped people by informing them, entertaining them, and giving them a bit of inspiration."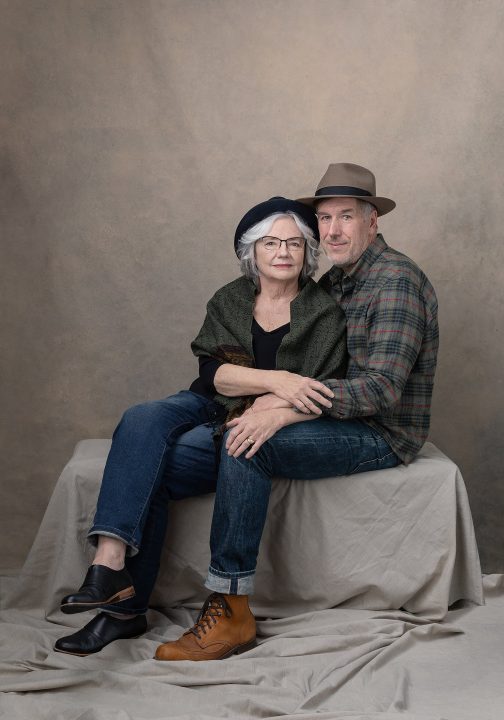 If you ask Kathy and her husband, Paul, how long they have been married, they will say, "thirty-seven." And then they'll look at each other and add, in unison, "miiiiilllllion years!" and they'll laugh.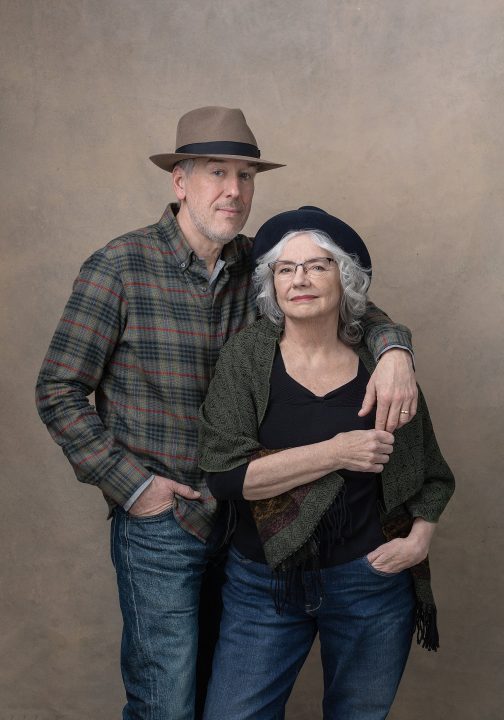 "My husband gave me the gift of a portrait [session] for Christmas, at my choice of photographer. I picked Maundy because her photos are beautifully lit and composed and it was clear from her portfolio that she works hard to make her subjects look great. Working with her was fun and I love my photos!"

-Kathy S.
Join Us!
Book your portrait experience in 2023. If you are a woman over the age of fifty, "the Over 50 Revolution" is for you. It's for everyone who loves you and for other women of all ages, to show them that they are worthy, too. I hope you'll join me in this luxurious and empowering experience. You can find out more HERE