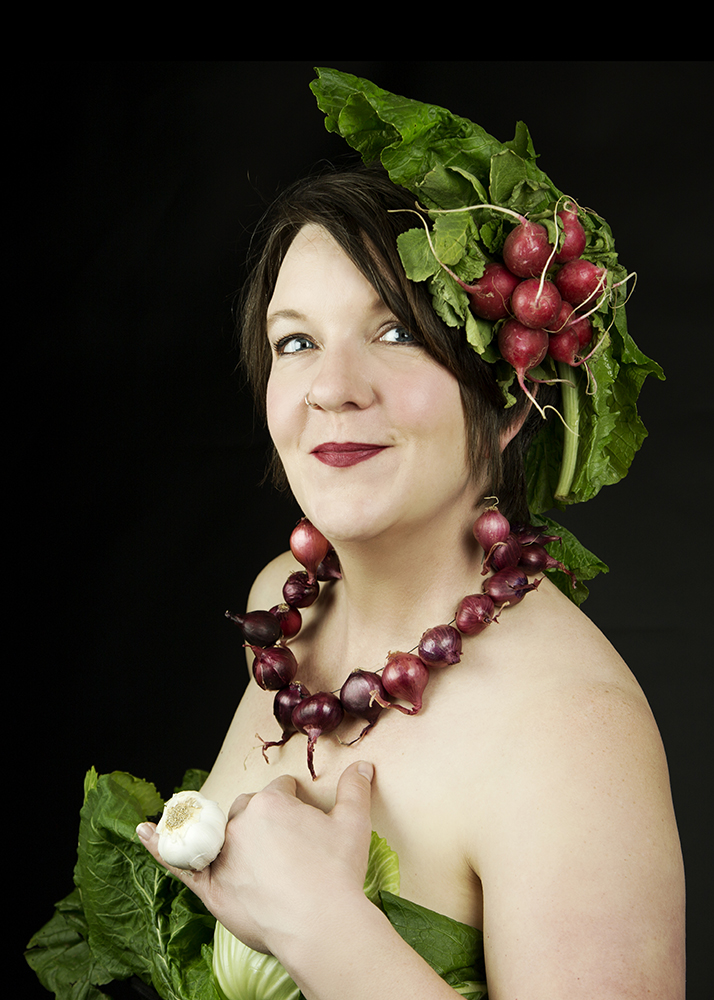 This is my friend, Kree. I wanted to do her portrait, so we picked a day and my brain went to work. She's a natural "foodie". Her husband is a chef and he was about to have a birthday. Kree is fun, creative and wacky (in a good way). I knew she'd go along with any crazy idea I had.
The idea for her portrait came to me in a dream (talk about wacky!) I simply imagined her wearing vegetables in a pose that mocks the traditional portrait. The bonus would be she could give her husband the portrait as a birthday gift. She loved the idea.
I stood in front of the grocery store vegetables for a very long time, looking for the right materials for a necklace, hat, and dress. When I saw the garlic, I thought it would make a perfect "diamond" ring.
Back in the studio, Kree arrived to help me put together her outfit. In addition to the vegetables, we had wire, pins, clothespins, and gaffers tape, and we used it all. Stringing the onions made me cry—those little things were strong! Kree had the idea to make earrings with the leftover onions.
We spent almost two hours figuring out and building the outfit, trying different ways to keep it all on her. By then, the lettuce was beginning to wilt. The heavy radishes were sliding down her head. The clothespins and tape were precarious. I had to shoot fast. My lighting and backdrop were set up and turned out to be perfect. I shot only ten frames before Kree's "fascinator" fell off, followed by the rest of her outfit. The end result was worth it. I love her mischievous smile as she proudly displays her wealth. (She and her husband love this portrait, too).